Captain Pete OConnell was just 19 years old when he started his job as a seasonal deckhand aboard the Belle of Louisville. Over the years, he continued to learn and grow in his role, rising to the role of Alternate Master Captain, a position in which he best enjoys piloting the vessel and telling great jokes (to the dismay of the crew). With so many years of history at Belle of Louisville Riverboats, Captain Pete OConnell is proud to say that he grew up aboard the Belle, even meeting his wife onboard. In this Crew Spotlight chapter, we interview Captain Pete OConnell to learn more about his unique role.
How long have you worked with Belle of Louisville Riverboats?
August 1980: Started as a seasonal deckhand
March 1981-1984: Deckhand, lead deckhand unlicensed Mate
January 1984: Received Mates License
January 1989: Received 1600-ton Master and 1st Class Pilots license
February 2002: Left employment as Alternate Master Captain with the Belle to complete retirement within the CERS
March 2007: Returned as Alternate Master Captain/Pilot
November 2015: Left to take a position as Mate aboard the Glory of Rome but continued as part-time Captain/Pilot
March 2020-Present: Returned as Alternate Master Captain
What are some of the important responsibilities of your job?
First and foremost is the safe and efficient operation of the vessels. Steward of the historic vessels in the operation and training and mentoring the crew.
In your opinion, what is the best aspect of your job?
The best aspect of my job is operating the vessels, especially the oldest-operating Mississippi Sternwheeler Steamer on the Western Rivers.
I was talking with Chief Engineer Dan Lewis and remarked how the Belle seems to come alive when her boilers are fired and the steam machinery is working. You can smell the oil and steam mixture in the air as the engines and pumps click and clack with every stroke of the machinery.
What does a typical workday look for you?
It varies. I can come into a dirty boat and clean or work on a repair project. It could be assisting others with replacing wheel lumber. I'm currently working to paint and assemble chairs with newly covered seats and backs after painting and replacing chair glides.
I also attend meetings with supervisors and staff and monitor the wharf and vessels to maintain a level of cleanliness for our guest.
Worst of all is to come in to sit behind a computer all day. I prefer to sit behind the pilot wheel and steer the boat.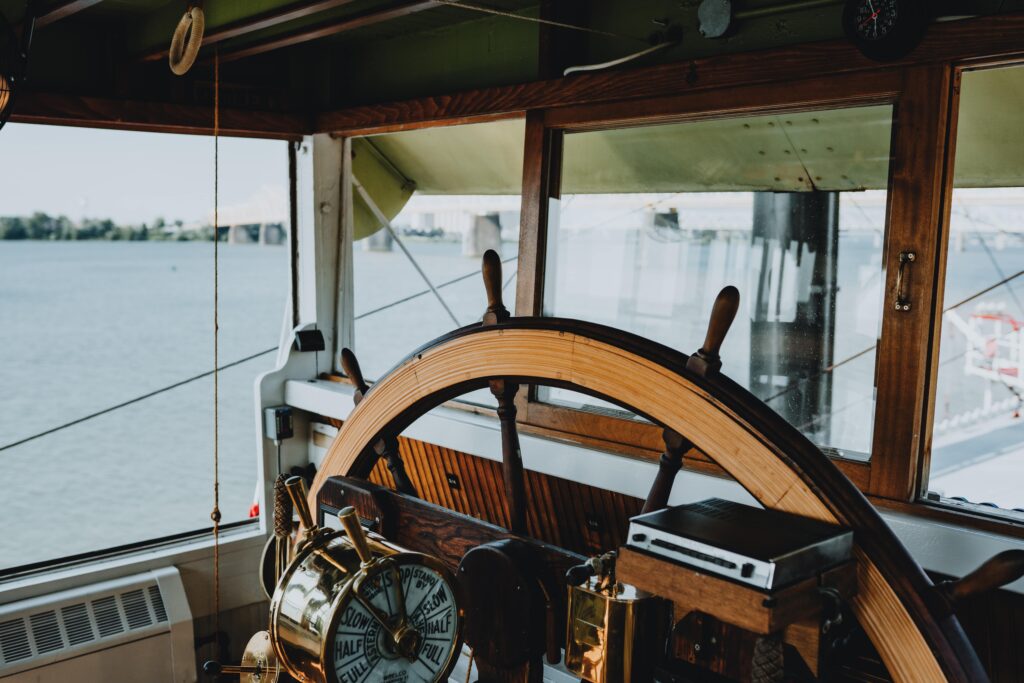 What is the most unique aspect of your job?
What's unique is the job of operating the Belle as it was done 108 years ago, minus the modern aids of navigation such as the VHF radios, radar and electronic charts. It's as if time has stood still, if only in my mind.
What is your favorite memory of working with Belle of Louisville Riverboats?
There have been many moments in my career. The most notable would be the day I received my Masters license, knowing that I wouldn't have had the opportunity if those before me hadn't pushed and/or convinced me, or even took their time to mentor me. I can say it's a proud feeling reaching that goal.
Why is Belle of Louisville Riverboats important to you?
The Belle of Louisville is important to me for her history, longevity and the fact that my career has been blessed with many opportunities to learn, grow and meet people from all over the world, country and in the industry itself. I can truly say that I have grown up on the Belle.
Is there anything you would like to add?
Just that I wish those who come after me appreciate the Belle for what she is and keep the traditions of steam boating alive.